August 29th, 2016 9:11 pm | by John Jansen |
Via Bloomberg:
San Francisco Fed researcher finds 2026 rate around 1 percent

Result implies 'very gradual rise' in rates going forward
Some at the U.S. central bank may still be too optimistic about how high interest rates can rise in the longer run, based on new Federal Reserve Bank of San Francisco research.
San Francisco Fed economist Kevin Lansing started with a simple premise: estimates of the inflation-adjusted neutral interest rate — the one that neither stokes nor slows growth — track pretty well with the U.S. Congressional Budget Office's four-quarter growth rate of potential GDP estimates. Looking at the CBO's projections for the next decade, he predicts "a very gradual rise" in the neutral rate, referred to as r-star in standard economic models, from near-zero in 2016 to about 1 percent in 2026.
"If the long-run value of r-star is indeed only around 1 percent or less, then the process of normalizing the federal funds rate may end up being more gradual than the midpoint paths implied," Lansing wrote. He notes that excluding high and low outliers, officials at the middle of the Fed's June projection see a longer-run real rate of 1.15 percent.
The fact that the longer-run projection is low matters: it means that the Fed will have less room to cut rates to spur growth in the next downturn than they have had in the past, and suggests that this hiking cycle will prove shallow.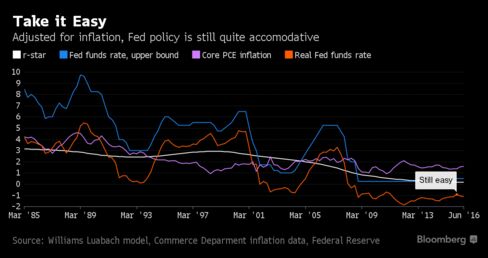 Monetary policy is currently still easy, based on estimates of the neutral rate, because the federal funds rate target range — nominally between 0.25 percent to 0.5 percent — is below zero once you account for 1.6 percent core inflation. How high rates can climb is an important consideration as the Fed, which next meets on policy from Sept. 20-21, contemplates how quickly and by how much it should hike rates.