November 20th, 2015 11:18 am | by John Jansen |
China's slowdown is already playing out across the world, dragging down commodity prices and weighing on trade partners.
And that's while the economy is still growing at about 7 percent. So imagine what happens in a hard-landing scenario.
The crew at Oxford Economics have done just that in a new report that makes stark reading for anyone with a stake in the global economy.
China's economic boom of the past 30 years means it now accounts for 11 percent of world GDP and around 10 percent of world trade. For resources, it's an even bigger player, accounting for 11 percent of world oil demand and 40 to 70 percent of demand for other key commodities,  according to the Oxford Economics research. Its financial system is massive, with its broad money supply now larger than the U.S.'s and amounting to over 20 percent of the world's.
So were China to sneeze, the world may well catch a cold.
First to trade. The volume of goods imported into China have already fallen by around 4 percent in the first three quarters of the year, after rising an average 11 percent per year from 2004-14. That means China has cut around 0.4 percentage point from world goods trade growth in the nine months to the end of September, after having added an average 1 percentage point a year in the previous decade.
The biggest losers are those with the closest trade links and those whose economies are most open.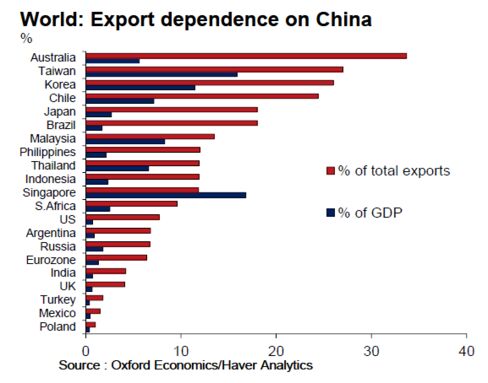 For most advanced economies, their reliance on trade with China is lower, with Germany among the more dependent: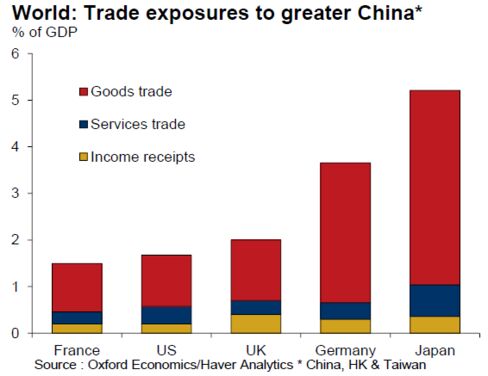 Then there's the indirect effects as the drag on GDP of China's trading partners works through the global economy. For instance, Japan would not only suffer from weaker exports to China but also to Korea and other Asian trading partners affected by China's slowdown, the Oxford Economics research shows.
Another transmission is via commodity prices, with any further slowdown in Chinese growth leading to additional price falls, especially as supply has expanded significantly in recent years. That would be bad news for the likes of Australia and Brazil.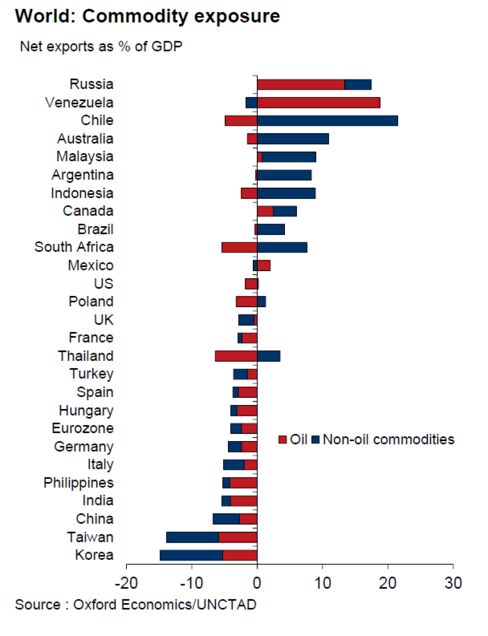 And here's another spillover you may not have thought of: One consequence of the plunge in crude prices is that oil exporting countries and their sovereign wealth funds now have less money to invest in advanced economy financial assets. Another leg down would compound that, the Oxford Economics report says.
There is a silver lining: Lower prices, especially for food and energy, would increase purchasing power in countries which are net commodity importers, including many advanced economies, emerging Europe, India, and the industrialized Asian countries such as Korea and Taiwan.
"A slowing China redistributes global economic activity through the commodity channel as much as dampening it," lead economist Adam Slater wrote in the report.
Then we come to the financial channels.
One risk is that a further growth slowdown creates financial ripples in China that spread to the rest of the world. On this score, the closed nature of China's financial markets should prove a buffer.
Ownership of China's banks is largely domestic, limiting potential for a bad loan blowout to become a global problem. There are some economies that would feel a sting: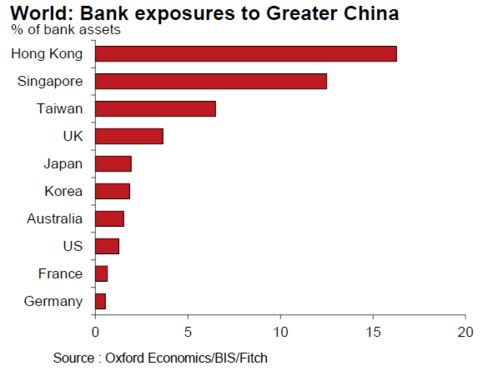 There is also the blow to corporate profits around the world if China's growth slumps. The stock of foreign direct investment in China is now around US$1.5 trillion, so if returns on those assets slow, so do global profits, according to the report.
The bottom line: World growth would "slow sharply," in a China hard-landing scenario, according to Oxford Economics. Close trading partners and commodity exporting countries would bear the brunt, and advanced economies would be significantly affected too, with deflationary pressures intensifying.