August 31st, 2015 5:08 am | by John Jansen |
Via Bloomberg:
Options traders have never been so pessimistic on China's stock market, betting the government's renewed effort to prop up share prices is doomed to fail.
The cost of bearish contracts on the China 50 exchange-traded fund has surged to the highest level versus bullish ones since they started trading in Shanghai six months ago. The so-called skew also climbed to a record for a similar ETF in the U.S., even as government buying drove China's benchmark index to a 10 percent rally in the final two days of last week.
While policy makers are trying to bolster the market before President Xi Jinping takes the stage in a World War II victory parade this week, bears argue that valuations are too high for the rally to last. Chinese investors have about 5 trillion yuan ($783 billion) of borrowed money riding on stocks, and many of them are looking for a chance to exit, according to Bank of America Corp.
"More and more people are not convinced about A shares," said Tony Chu, a Hong Kong-based money manager at RS Investment Management Co., which oversees about $20 billion. "Ultimately, the government needs to reduce intervention and let more de-leveraging happen."
The Shanghai Composite Index dropped 0.8 percent to 3,205.99 on Monday, closing near its highest level of the day for the third straight session amid speculation state-backed funds are using afternoon share purchases to bolster the market. The China 50 ETF rose 1.9 percent, erasing an earlier loss of 4.2 percent.
Puts that pay out on a 10 percent retreat in the fund cost 9.7 points more on Monday than calls betting on a 10 percent gain, according to implied volatility data on one-month contracts. As recently as Aug. 24, the bullish contracts were more expensive. For the U.S.-listed Deutsche X-trackers Harvest CSI 300 China A-Shares ETF, the skew reached a record 38 points on Aug. 27 and closed the week at 28 points.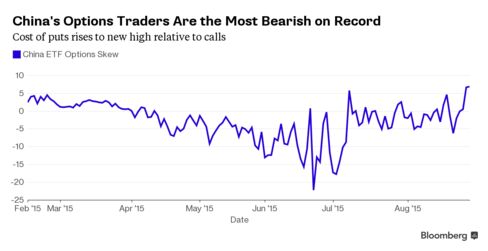 Chinese policy actions last week suggest authorities are intent on putting a floor under share prices. On Tuesday, the central bank announced its fifth interest-rate cut since November and reduced the amount of cash banks must set aside for reserves. State buying on Thursday propelled the Shanghai Composite to a rally of more than 5 percent in the final hour of trading, according to people familiar with the matter, an advance that extended into a 4.8 percent gain on Friday.
China's intervention is part of a broader effort to ensure nothing detracts from the Sept. 3 parade, an event the government will use to demonstrate its rising military and political might. Authorities have also closed thousands of factories to curb pollution and ordered some vehicles off the road.
For BofA strategist David Cui, equity valuations and earnings growth aren't appealing enough to support the market in the absence of government buying.
Margin Debt
Equities on mainland bourses traded at a median of 53 times reported earnings last week. That's the most among the 10 largest markets and more than twice the 19 multiple for the Standard & Poor's 500 Index. The Shanghai Composite, where low-priced banks have some of the biggest weightings, trades at 16 times reported earnings.
Analysts have cut their 2015 profit estimates for Shanghai Composite companies by 8.8 percent this year, according to data compiled by Bloomberg.
Cui is also worried about the impact of selling by leveraged investors. Margin loans tracked by Chinese exchanges have dropped by half from their June peak to about 1.1 trillion yuan, a figure that doesn't take into account equity-backed debt extended by trust companies and other lenders.
"That's a very unstable situation," said Cui, who estimates the Shanghai Composite needs to fall another 35 percent before shares become attractive. "The government will not support the market forever."
The $5 trillion tumble in share prices from mid-June through last Wednesday has damaged confidence so much that state buying isn't enough to lure back investors, according to Kenny Tang, chief executive officer of Jun Yang Securities Co. in Hong Kong. It may take further cuts to borrowing costs and reserve requirements to convince funds to return, he said.
The Deutsche X-trackers Harvest ETF ended last week down 6.2 percent at $32.70 in New York, extending its loss from a June record to more than 40 percent.
"The market sentiment is still quite volatile," Tang said. "People are worried that after the rebound there will be some selling pressure."